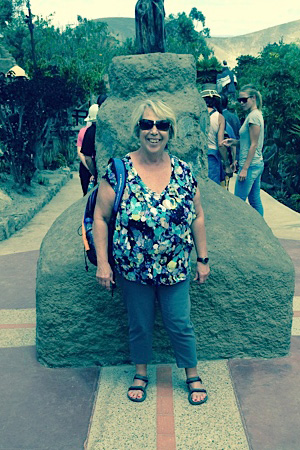 Corie
Born in the Netherlands and raised in Quebec, Corie has been in BC since 1969 and in Yarrow for more than a decade.
Corie established her Wilson Road Pottery studio in Yarrow after taking lessons at Rainforest Pottery, also in Yarrow. She soon developed a unique nature-inspired style, and struck out on her own.
She was married for 42 years before being recently widowed, and has two adult daughters. After her husband passed, despite strong community connections, she found herself more alone than she liked.
She began exploring the Ecovillage, initially interested in the co-housing for not-quite-seniors (Elderberry). For now she has purchased a home in multi-generational Groundswell.
Corie can be seen pursuing her interests in knitting and sewing and gardening in her new home.  She also loves to travel, having adventures around the world,  and was recently in the Galapogos and Peru.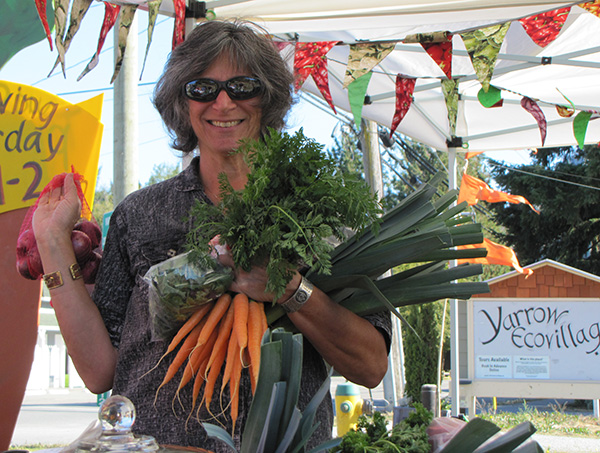 David and Devorah
David and Devorah met a decade or so ago, post-retirement, following parallel paths through life which eventually converged. Both were born in the US midwest, landed on the west coast of California, and then moved on to BC, where both raised families (6 adult kids between them). They met quite by chance and discovered their shared passion for the outdoors, especially hiking, and a shared quest for a vibrant community life while ageing. In an exploratory trip to Yarrow Ecovillage to see what it was all about, they were immediately hooked by the land, the spirit of community, the natural beauty, the potential. They have never seen happier kids! Now living in Groundswell,  they have started their next adventure (they call it "anti-retirement") learning and creating all kinds of new things, solving problems, having stimulating discussions, and spontaneous music jams. When not working on a project, David might be seen with a harmonica in hand, a guitar, or his ever-present sketch book. If not drinking coffee, he might be napping. Devorah might be seen with her nose deep into the garden with a camera looking at insects, biking along the dikes, or reading a book.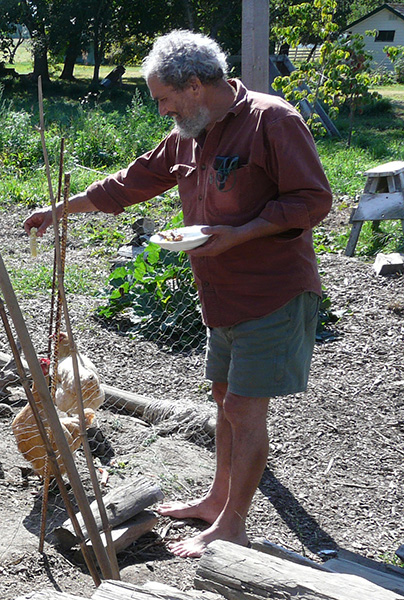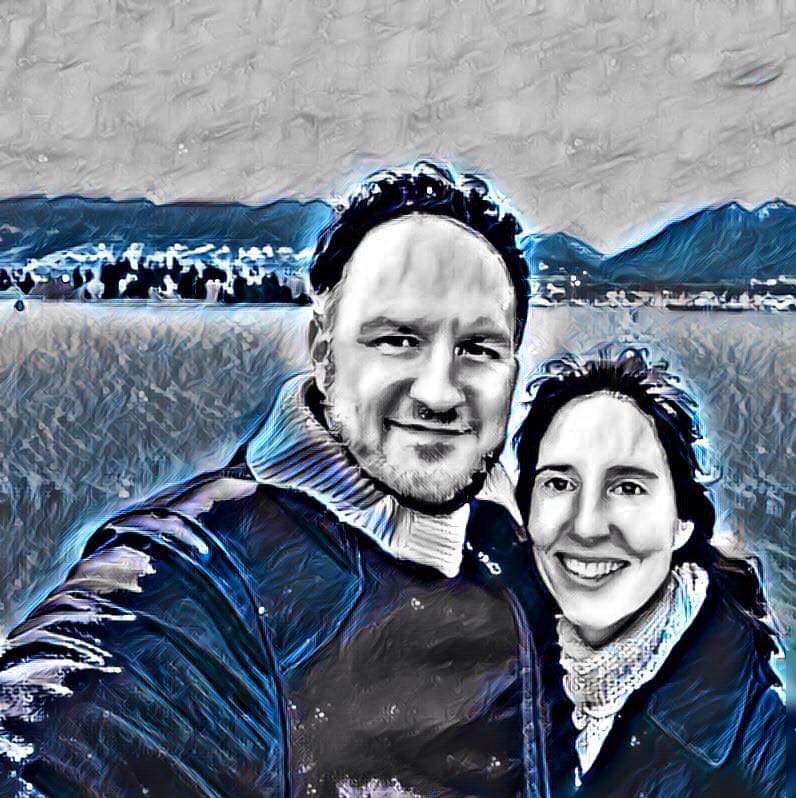 Dena, Steve, Bodhi, Luna, Zen and Alma
Steve and Dena met in a graduate program in Counselling at Northern Illinois University, where they discovered mutual interests in simplicity of living, the value of family and healthy lifestyle. They traveled West and lived in both California and Oregon before moving to Yarrow Ecovillage in 2014. They see parenting as possibly being their most significant contribution making a transition from an industrial growth society to a life sustaining civilization. To this end they offer their gifts to their children. Steve offers authority that is balanced with love and Dena offers autonomy within a field of mutuality. Together they are working to harmonize the masculine and feminine, the integration of theory and practice and honing the practice of focusing on the essential rhythms of life.
Steve is a Registered Clinical Counsellor in private practice. Steve's practice focuses on clients coping with anxiety, relationship issues and emphasizes mindfulness, spiritual guidance and depth psychology. He also teaches yoga, coaches football, and can be found motorcycling, skiing, swimming, reading Rumi, taking long walks on the dike, finding metaphors and building sustainability from the inside out.
Dena is a School Psychologist at SD 33. She enjoys long walks on the dyke with her husband, gardening, yoga, reading Pema Chodron, cooking and tending to her flock of 4 children. She is passionate about listening, building a sustainable future for her children and mindfulness. She can be be found reminding someone to take their plate into the kitchen, reflecting, organizing community dinner, stealing moments in time to be with her husband, and dreaming about taking the family snorkeling in some far flung place.
In spite of busy lives, the power of play is active within the Woolfpack. Be it a trip to their favorite swimming hole in the summer, a family game of monkey in the middle in the living room, followed by reading aloud the Gift of the Magi during winter break, Lego, a card game, an after dinner dance party in the kitchen, ….or even a conga line from the dining room table to the kitchen with plates in hand. Eureka!
King-Scobie
Cher is a multi-interest woman raising chicks (kids, ducks and chickens).  She is a researcher/questioner at heart and is usually researching two or three new ideas simultaneously (currently wild fermentation of country wines, funding for ecosystem services research and experiential learning practices in the classroom).  She is actively experimenting with the Taoist philosophy of remaining low and revels in the ying and yang of situations: being a pollen allergy-prone hobby farmer, being a grumpy yet loving mom, and feeling abundant with little.
Shayne is a pancake, duck-house, and living willow fence maker who is community minded and always wants to talk about new ideas. Currently in love with saunas, natural swimming pools and electric bikes, Shayne loves the process of idea generation and loves working with task-oriented people to see the ideas come alive.  You are as equally likely to find him lying in the grass looking at the clouds as being fully engaged in the spontaneous intensities of life.  He lives his life slow in the back eddies and fast in the rapids.
Caius likes to play in the dirt, dig giant holes, build forts and explore video games.  He is in/out, here and there, building this and playing that and is often the first welcomer to new folks on site.  He loves babies (humans, ducks, chickens, snakes, owls etc.) and is a defender of the young.  He wants to be a chef and a massage therapist. He especially likes to swim in the creek or the river.
Eli loves celebrations: his birthday, Yarrow days, Christmas… and people.  His profession is friendship.  He likes to keep his feet firmly on the ground and his hands clean.  He smiles a full-body smile and cries just as fully and completely.  He has been known to give away his presents to a friend who asks or to run backwards in a race to keep up a conversation.  Eli lives almost fully in the present and pays no attention to the past; however, he does like to create countdowns to celebrations.
Dahlia likes to play house, jewelry, and the trampoline with her friends.  She is a gumboot princess who is likely to be wearing a pink princess dress with torn crinolines edged in mud and carrying a chicken under her arm while digging in the sandpile.  Revelling in all things beautiful, she smiles easily and loves to hug friends and neighbours.